We manufacture
all sorts of
men's shoes
---
A renowned men's shoes manufacturer in Malaysia, WH Shoes Trading Sdn Bhd has won great reputation over the years with a wide range of style, trendy designs and superior quality.
After years of hard work, besides owning a few self-owned brands, we have also become an OEM factory for some international famous shoe brands, bringing Malaysian shoemaking technology--one the country's proud industries--into international limelight.
---
Technological Advantages
---
Wai Hong Shoe Industry has accumulated a solid manufacturing experience and won many OEM commissions mainly because of the following technological advantages.

Cost control
We are in full control of designs and materials, and that makes us highly competitive in terms of cost control.

Fashionable designs
Decades of marketing experience has sharpened our sense of aesthetics as well as market preference, enabling us to come up with fashionable designs, even for our safety shoes.

Quality material
Only quality materials can produce high quality shoes. We use superior materials to ensure that all our shoes are stylish, durable, safe and comfortable.

Senior shoemakers
We employ a number of senior, experienced shoemakers, most of whom have been in the industry for decades, to ensure that our shoes are of the best quality.
R&D Optimization
---
Wai Hong Shoe Industry's key brand—Hammer King's safety shoes—is the fruit of stringent R&D and years of optimization, including complex safety features, intimate comfort, stylish design etc., with SIRIM QAS (Standard of Industrial and Research Institute Malaysia) certification.
Hammer King's safety shoes boast of the following superior features:
Multi-faceted safety considerations to create the most comprehensive safety shoe concept
Comfortable materials, meticulously made, to pamper every part of the foot
Fashion elements are incorporated to make our safety shoes more stylish, safe and reliable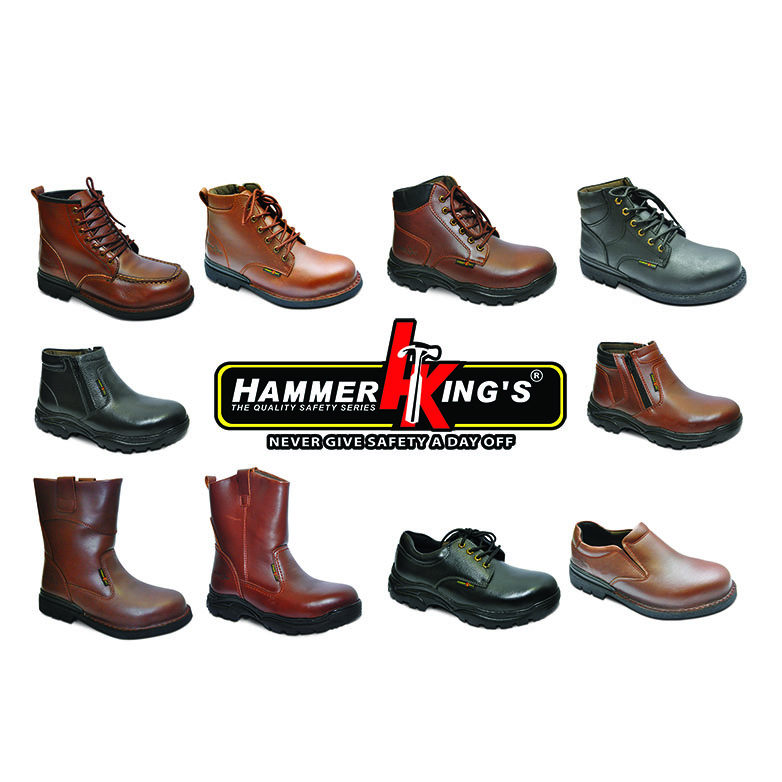 Customized Production
---
Although Hammer King's safety shoes offer the most comprehensive standard safety specifications, we offer flexible solutions for customized manufacturing of safety shoes too, where customers can order the most suitable safety shoes according to the diverse needs of individual and various industries.
---
Hammer King's safety shoes have gained high popularity in Malaysia since its launch. The brand's high quality and trendy design has made it the designated safety footwear for numerous private organizations as well as government agencies.
---
---






---






---